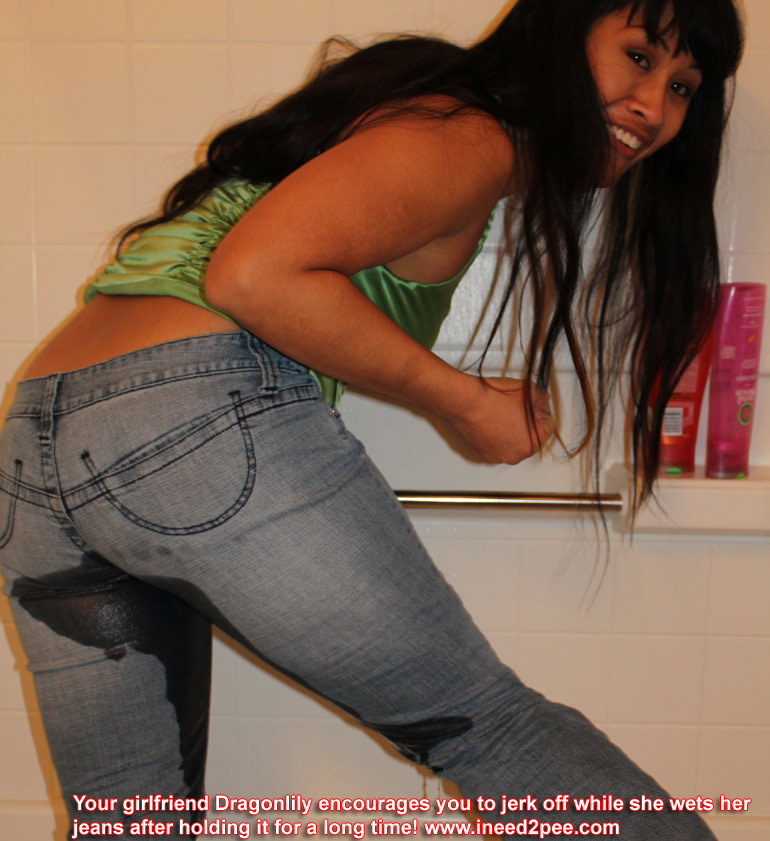 First ever wetting scenario combining masturbation encouragement! it's the lovely asian fetish model Dragonlily and she is your GIRLFRIEND! You're almost home but she's been squirming nonstop on the way home from the festival, because she drank way too many beers & didn't use the restrooms before leaving. You're about 1 block from your house when she stops dead in her tracks because she's already leaking in her panties. Clenching her thighs together, she rushes to the front door, but fortunately, YOU have the keys! You take your time getting them out of your pocket while she's jumping around desperately! It turns your on so much that you have a RAGING BONER which she notices & remarks upon. She realises that this is turning you on so much & invites you upstairs to the bathroom where she starts taking off her tight blue jeans. But you stop her & tell her you like it with the jeans on better!
Dragonlily realises how turned on you are watching her desperation dance & stands in the tub, trying to hold it for as long as possible. She wants you to take out your cock & pleasure yourself while she squirms, grabs her crotch & cups her bladder trying not to PEEE HER JEANS. She verbally tells you to keep stroking & lots of encouragement. All of a sudden she starts spurting uncontrollably into her jeans, PEEING herself as you play with yourself in delight at her lack of bladder control. The PEEE keeps coming out, wetting her jeans & trickling loudly into the tub. She can't stop it!! After her bladder is emptied, she sighs in relief & peels off her pissy jeans. She keeps encouraging you to CUM & holds out her wet jeans to cum onto!! The smell of the PEEE & watching your HOT girlfriend wet herself for you is to omuch & you bust your load onto her jeans
Comments Off

on GF Dragonlily pisses her jeans while you jerk off!