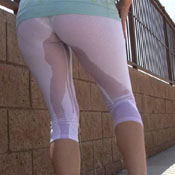 Yes I know Ryan is a boys name but she is anything but! There's going to be a LOT of brand new models and fresh faces here on I Need 2 Pee! keeping things exciting and new. Ryan was already dying to relieve herself on the way to the location, she could barely listen and concentrate on my talking. She is a cutie with natural curly hair, wearing white tights which show off her curves and also her very visible panty line ( VPL ). It was a GUSHER of a WETTING and the best part was walking back to the car while some dudes playing soccer on the field stared over at us. One of them was trying to wave to Ryan so she was a little embaressed. Beautiful streaming gusher off a piss!
Download the whole Ryan wetting video PLUS 130+ more full female desperation to pee videos.
If you don't want to join the full site you can always go to myOFFICIAL CLIPS4SALE store to download 1 or 2 videos you really like!