Happy Halloween to everyone out there, to all long time fans, members, lurkers and people who have just stumbled here by accident today.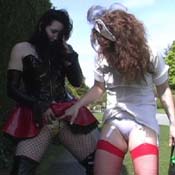 I hope you all are taking it easy, taking the day off and enjoying the celebrations tomorrow with friends, family and partying hard. Today I've got a fun Halloween costume scene with the lovely Alice in a sexy nurse's outfit and the voluptuous Raven as a naughty witch on their way to the Halloween Par-tay. Alice really couldn't hold it for very long at all and it just gushes out through her panties, running down her legs and splashing it all over her sexy shoes too.
Enjoy and Happy All Hallows Eve, All Saints Day and All Souls Day!