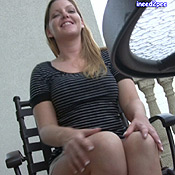 It's been awhile since I Need 2 Pee had a nice on purpose panty wetting scenario so I thought the bubbly Kadie would be the best to tease you with her very full bladder outside on a patio. You can hear other people around but we are in the corner sitting at a table while I smoke a cigarette and she is holding onto her bladder. There's some squirming, thighs tightly clenched together and also crossing legs to keep it all in. She's feeling really naughty today & it's apparent in the way she talks to you. Also some nice upskirt shots as well. You can see her nice bladder capacity when she can't hold it anymore and her hot pee is gushing out through her cotton panties, splashing loudly on the ground & making a nice puddle. Hmmm I wonder what the next people that came out there thought of it? Did they think it was spilled water or more? hehe.
Also a nice behind the scenes with Kadie and her pissy wet panties at the end!!!
Download the PANTY WETTING IN PUBLIC SCENARIO NOW!
Comments Off

on Kadies Teases U with Wet Panties